19.07.2016
Young, Olympic Mathematicians: six Argentine students recognized in China
The minister of Science, Lino Barañao, welcomed the six Argentine adolescents who competed in the Worldwide Mathematic Olympics, held in Hong Kong. He spoke about curiosity as a core value to make science.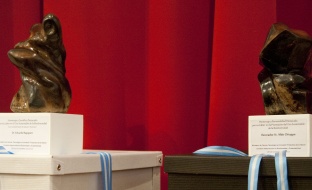 The minister of Science, Technology and Productive Innovation, Dr. Lino Barañao welcomed the delegation that represented Argentina among a hundred of countries that participated in the competition which aim is to foster cleverness, creativity and invention in problem solving. Among the national participants, two of them came back winning a Bronze Medal and three of them winning a Medal of Honor in recognition of their skills and dedication.
"It is important to convey the pleasure of learning, satisfying curiosity." Barañao stated.
During the meeting, Barañao asked them about their emergence of interest in the discipline, their vocations and also invited them to preserve their curiosity. "It is important to convey the pleasure of learning, satisfying curiosity". In this sense, he stressed how rewarding making science is: "Some people say it is a sports activity because you find pleasure in doing it, not in reaching a goal". 
 "We need many more children like you studying Mathematics, Computer Studies, Physics, because the future work is there and it will require something that you are already implementing in practice: creativity", stated the Minister when they were discussing about their professional ambitions. In addition, he urged them to be arrogant and to pursue their goals, somehow imitating the Watson-Crick model, the discoverers of the DNA double helix, that gathered an experienced researcher with a young, bold student.
On their part, children, agreed in the importance of this kind of actions that strengthen their skills and where they relate with people to whom they share the same interest. Besides, all of them stressed the importance of the influence of teachers during the first early school years: "I discovered this passion as a child, they helped me and accompanied my parents very much as well as school: teachers encourage and immerse you in this world", Agustín, a Gold Medal winner, stated. "The most important thing is the role of the teachers. They can make Mathematics as interesting as any other subject", 17-year-old Lucas, the Bronze Medal winner, agreed.
Martín Mereb, PhD in Mathematics and Deputy Head of the delegation that travelled to China. He is in charge of taking the children and monitoring the correction. In 1998, when he was 17, he did not imagine he would be where he is now when he won the Gold Medal: "I did not expect to win this medal. This was a turning point in my life", Martín pointed out regarding importance the Olympics have in promoting vocations. 
The students who travelled to Hong Kong were Agustín Marchionna from San Juan School in San Isidro and Lucas Gabriel de Amorin from Loreto Educational Centre in Avellaneda, both Bronze Medal winners from Buenos Aires schools; Nicolás Cassia from the Santísima Trinidad Institute in Mar del Plata, Buenos Aires, Ian Manuel Fleschler from ORT Technical School, Autonomous City of Buenos Aires and Carlos Miguel Soto from the Mecenas Private School in Corrientes, all of whom received a honorable mention and Carla Crucianelli from the Carlos Pellegrini High School of Commerce located in the Autonomous City of Buenos Aires.