28.04.2014
The winners of the Science Park ideas competition were announced
It is about an over 8000 square meter public park to be built in the former Bodegas Giol. 53 proposals were received and the first, second and third prizes were announced. In addition, three honorable mentions were selected. The Park will be a green space for public use recreation with scientific themes.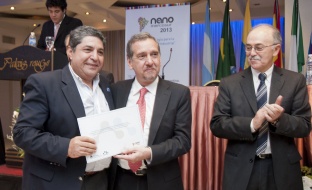 Render of the winning project.
The Ministry of Science, Technology and Productive Innovation selected the winners of the ideas competition for the Science Park to be built in the Science and Technology Cluster. The public space will be located at the former Bodegas Giol with more than 8,000 square meters. The selected project will receive a prize for the amount of $ 180,000.
The opening of envelopes where the winning projects were revealed was led by the Minister of Science and president of the jury Lino Barañao, together with the Minister of Urban Development of the City of Buenos Aires, Daniel Chain and the President of the Central Society of Architects, Eduardo Bekinschtein. 53 projects participated in the competition, 43 were presented at the Central Association of Architects, 3 in La Plata, 1 in La Rioja, 3 in Rosario, 2 in Córdoba and 1 in Santa Fe.
The competition, organized by the Central Association of Architects and sponsored by the Federation of Argentinean Architects, will conclude with the building of a public green space intended for recreation use but with special features inviting neighbors to scientific activities. Therefore, each proposal must include spaces for scientific content, exhibitions and games. A series of interactive modules will be built along the park, where visitors can understand concepts about motion, forces, energy, water, sensory perception, etc. through games. Additionally, the park area will recreate specific habitats of Argentina.
The Science Park will include an amphitheatre of 300 square meters for up to 50 people, exhibition spaces and areas for educational activities.
The submission of works ended on March 20, 2014, three prizes and three honorable mentions were awarded. Prizes awarded are of $ 180,000 first winner, $ 90,000 the second winner and $ 50,000 the third winner.

The awardees are:

1st. PRIZE

Author: Architect Silvestre Borgatello.
Contributors: Damián Rojas, Gonzalo Rosell, Germán Rodriguea, Ciro Radice, Guillermina Borgognone.

2nd. PRIZE
Author: Architect Franco De Francisci.
Contributors: Architects Favio Maximiliano Guadagna, Tomás Mielnikowicz, Juan Cruz Cazenave, María Emilia Echeverría and the Visual Arts Prof. Matías Amici.

3rd. PRIZE

Authors: Architects Miguel Cocco, Mariano De la Mota and Sebastián A. Miguel.
Contributors: Julián Fernandez Skapin, Suyai Jimenez and Andrés Palazzo.
Advisory: Alvaro Zamora (Landscaping).
HONORABLE MENTION

Authors: Architects Mario Boscoboinik, Jorge Iribarne and Matías Gigli.
Contributors: Pablo Vrecic, Franco Bellantonio and Cristian Grasso.
Advisory: Architects Cora Burgín and Sebastián Mouzo (Landscaping) and Engineer Alberto Fainstein (Structure).

HONORIFIC MENTION
Authors: Architects Ignacio Pedrido Fanelli, Leonardo Javier Losada, Mauro Grivarello Bernabé and Federico Patricio Castellani.

Contributors: Architects Lisandro Baduzzo and Mauro Pesci.


HONORABLE MENTION

Authors: Architects Federico Azubel, Ignacio Trabucchi and Walter E. Viggiano.
Coordination and Project team: Architect Damián Parodi.
Contributors: Architects Anabella Gatto, Cecilia Crecenzi, Paula Valentini, Andrea Tchabrassian, Josefina Llambias, Flavia Dramasino and Alejandro Fajardo.
Advisory: Estudio Bulla: Mr. Lucía Ardissone, Ignacio Fleurquin and Ana García Ricci, Contributor: Alejandra Yamasato (Landscaping); Architect Martín Huberman (conceptual Installations); Engineer Daniel Isola (Structures); Engineer Alfredo Squaglia (Thermomecanics).