18.10.2016
Science consolidates international bonds to promote investment
Barañao leads the official mission to Finland, Norway and Italy with the aim of enhancing the cooperation agreements that the portfolio has with these countries.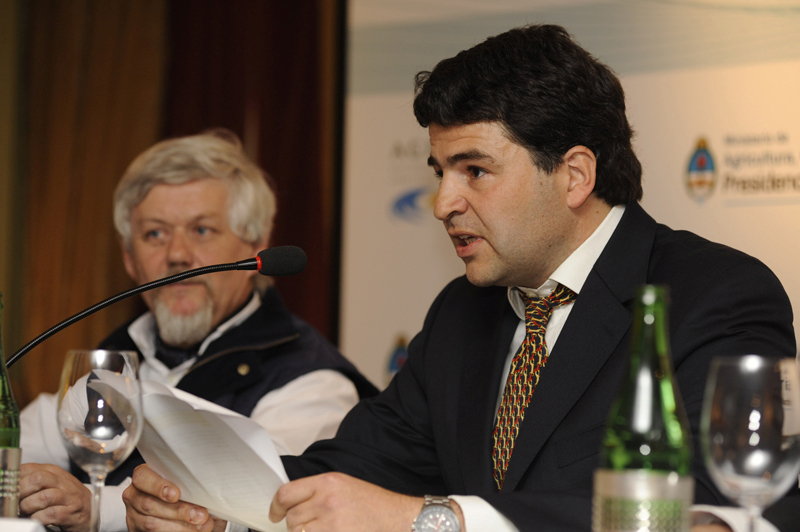 Barañao and Jordán held a meeting with the members of Red de Científicos Argentinos (Network of Argentine Scientists) in Finland
Lino Barañao, the Minister of Science, travelled to consolidate the cooperation bonds and to establish new ones, and to find investment through a series of meetings with businessmen, academicics and European officials. The mission, which began on 15 October and will finish on 27 October, includes the cities of Helsinki, Oslo, Rome, Milan and Turin.
While in Finland, Barañao, accompanied by Mariano Jordán, the national director of Institutional Cooperation and Integration, held a meeting with the authorities of the Technical Research Centre (VTT) and with Pekka Soini, the general director of the Funding Agency for Innovation TEKES. Furthermore, the Minister had the chance to meet the members of Red de Científicos Argentinos (Network of Argentine Scientists), created within the frame of Programa RAICES (Network of Argentine Researchers and Scientists Abroad Programme) in that country.
After his arrival in Norway, Barañao will participate in the Biomarine Fair 2016, where he will discourse in the plenary board formed by representatives from different countries. During said fair, information on oceanic spaces, aquiculture and biomarine research will be exchanged and debated according to  Pampa Azul policy in which this Ministry participates. In his visit to Oslo, he will hold bilateral meetings with Jean D´Amour, Minister of Maritime Affairs of Quebec (Canada); Ana Paula Vitorino, Minister of Sea of Portugal; Torbjørn Røe Isaksen, Norwegian Minister of Education and Research, and Tiago Pitta e Cunha, CEO of Fundación Azul of Portugal.
Finally, the delegation will travel to Rome and welcomed by Mauro Moretti, CEO of Leonardo-Finmeccanica S.p.A. In Milan, Barañao will meet with with the Minister of Education, Stefania Giannini; then with the CEO of Intesa Sanpaolo (ISP), Carlo Messina, and later tour the facilities Federchimica (National Federation of Chemical Industry). To close the tour, the minister will travel to Torino for a meeting with Francesco Profumo, former president of the National Research Council and former Minister of Education, University and Research of Italy and Rector of the Polytechnic of Turin.