07.10.2013
Boudou and Barañao Introduced the 1,000th Repatriated Scientist and the 2012 National Researcher
The event was held at the Pink House and we celebrated the 55th Anniversary of the National Council of Scientific and Technical Research (CONICET).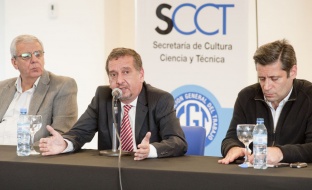 Vice-President Amado Boudou, during his speech in the event.
The National Vice-President, Amado Boudou, together with the Minister of Science, Technology and Productive Innovation, Lino Barañao, introduced today the 1000th repatriated scientist, Dr. María Verónica Perera. They also honoured Dr. Ana Belén Elgoyhen as the "2012 Researcher of Argentina". The Chief Minister, Dr. Juan Manuel Abal Medina also participated in this event, and the President of the Honourable Chamber of Deputies, Dr. Julián Domínguez.
During this event, Boudou stressed out that "we have repatriated our 1000th scientist, and this is a symbol of the times we are living. As they made a personal decision to leave, they also decided to return, and this has to do with the project we are developing in our country." He also highlighted that "the systems associated with human capital, as the scientific system, may not be turned on and off. Our researchers are the guarantors for such policies to move forward." Finally, when he spoke about the recognition as National Research, Boudou assured that "our scientists are being honoured by the whole Argentine people for their efforts".
The repatriated scientist, Verónica Perera returned to our country in February, this year, after living 14 years in New York, to join a team of researchers and professors from the National University of Avellaneda (UNDAV). Perera returned to Argentina within the frame of the RAICES Programme (Network of Argentine Researchers and Scientists Living Abroad), and it is aimed at promoting repatriation and networking of Argentine scientists living abroad.
Ana Belén Elgoyhen, a doctor in Biochemistry, was awarded recognition as the most outstanding professional from our national scientific system, and such award recognizes the academic experience of a scientist for the high value her work represents for the Argentine development. The Researcher of Argentina is selected by the awardees of the Houssay Prize of Science and Technology. This recognition is organised by the Ministry of Science, through the National Programme for the Popularization of Science and Innovation.
Within the frame of this event, the "Houssay Prizes", "Houssay Prizes for Scientist's Career" and the "Jorge Sábato Prize" in recognition for the work of researchers who developed most of their careers as scientists in our country and contributed to creating new knowledge with social and productive impact as well as to encouraging training of human resources. Nine awards were given. In the case of "Houssay Prizes", they were received by: Santiago Grigera (Physics, Mathematics, and Computer Sciences); Omar Azzaroni (Chemistry, Biochemistry, and Molecular Biology); Mariana Maccioni (Medical Sciences) and Mario Pecheny (Social Sciences). "Houssay Prizes for the Scientist's Career" was for: Ricardo Guillermo Durán (Physics, Mathematics, and Computer Sciences); Hugo José Fernando Maccioni (Chemistry, Biochemistry, and Molecular Biology); Ana Belén Elgoyhen (Medical Sciences); and Elizabeth Jelin (Social Sciences). Finally, we awarded the "Jorge Sábato Prize" to the researcher Raquel Lía Chan (Chemistry, Biochemistry and Molecular Biology).
The Vice-President also gave the President of the National Council of Scientific and Technical Research (CONICET), Roberto Salvarezza, a commemorative plate for the 55th Anniversary of such body. The CONICET has currently 7500 researchers, 2300 technicians, 1100 clerks and finances a postgraduate course and a post-doctorate course for 9100 students who are preparing their doctoral dissertations at universities in our country. It comprises 192 institutes and research centres, 12 Science and Technology Centres, and two multidisciplinary centres. Six Research and Transfer Centres have been recently created. Our CONICET is between the 100 institutions in connection with the production and quality of scientific work, out of a total number of 3300 institutions worldwide. In this sense, it is second in Latin America and the first one in Argentina.
Profiles of the Repatriated Scientist and the 2012 National Research
María Verónica Perera. Bachelor in Sociology from the Universidad del Salvador, Master in Economic Sociology from the National University of San Martin, and master and doctor in Sociology from the New School for Social Research.
She currently works as professor in the subject "Memory, Human Rights, and Cultural Citizenship" and as professor of the postgraduate course "Activism, Memory and Human Rights in Argentina", at the National University of Avellaneda.
Among other awards, she was awarded the Albert Solomon Memorial Award in Sociology, and the SUNY Chancellor 2011, for the Internationalization Initiatives, Study Program in Buenos Aires: "Social Activism, Memory and Human Rights".
Ana Belén Elgoyhen. Doctor in Biochemistry. She is currently a main researcher at the CONICET, and associate professor at the University of Buenos Aires, Medicine School. She directed nine concluded doctoral dissertations from various scholars and researchers from the CONICET. She has got 64 prestigious publications in high impact factor magazines (such as Cell, Neuron, and PLOS Biology). Her production relates to biology of audition, both in its basic aspects and its potential applications. She also wrote eight chapters of books, participated in more than national and international 70 scientific meetings, speeches and conferences. She has got five patents. She has obtained several subsidies as team leader and has significant international support for her scientific labor.
She has received several national and international awards, such as H. Hughes Memorial Institute, Guggenheim Memorial Foundation, L´Oréal, Pew Charitable Trusts, The World Academy of Science (TWAS). She has important management roles in favor of hard-of-hearing patients.
Her contributions to audition biology are original and have basic and applied relevance. She actively contributes to the development of human resources and has made significant technological contributions.