08.10.2013
Barañao and Insaurralde in a Tribute to Science
Minister Barañao and the candidate as a national deputy for Frente para la Victoria (FPV), Martín Insaurralde gave a conference at the Darwinian Botanic Institute in San Isidro, about the importance of science and technology for the future of our country.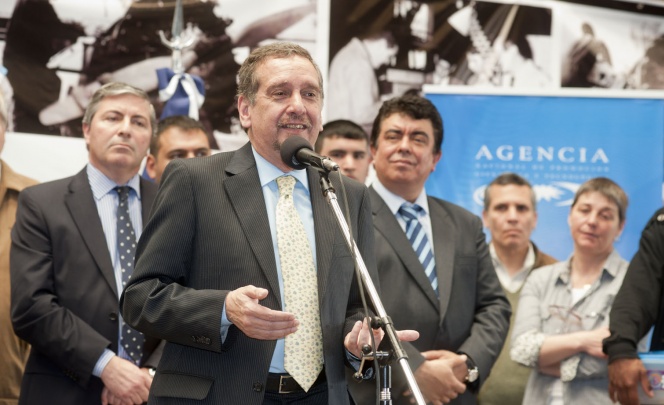 Barañao at the centre, Martín Insaurralde on the right and Juliana Di Tullio on the left.
The Minister of Science, Technology and Productive Innovation, Dr. Lino Barañao participated, together with the mayor of Lomas de Zamora and candidate as national deputy for Frente para la Victoria (FpV), Martín Insaurralde, and the national deputy, also a candidate for the forthcoming elections, Juliana Di Tullio, in an event to celebrate the scientific and technological progress achieved in recent years, at the Darwinian Botanic Institute (IBODA), in the location of San Isidro, Province of Buenos Aires.
"Science has politicized", i.e., "science has political involvement", assured Dr. Barañao during his dissertation. Barañao durante su disertación. He also asserted that "what has changed in this last decade is the role of science, science as an instrument for economic development and social inclusion". Also, he asked the audience to become aware of the importance of having a Ministry, as the one he leads, in our country as "it is an integral part of a project intended to implement another accumulation model, where knowledge, development and creativity carry weight."
Insaurralde expressed about the Institute that "it is great to come and meet at a place that deals with science, research, and technology that is in such a good condition, and it is great to have it in San Isidro, in our province of Buenos Aires." About progress in the field of science and technology, he stressed out the importance of the work performed by this government: "Being here has to do with making investments in science, technology, and research."
Other national deputies attended this event, such as María Teresa García, Graciela Giannettasio, Diana Conti and Jorge Landau, The National Director of International Relations of the Ministry of Science and Technology, Águeda Menvielle, the President of the National Council of Scientific and Technical Research (CONICET) Dr. Roberto Salvarezza; the Director of the Darwinian Botanic Institute (IBODA), Dr. Fernando Zuloaga and the assistant researcher from the CONICET, Dr. Renata Reinheimer, who was repatriated within the RAICES Programme.
The Darwinian Botanic Institute is a an agency of the CONICET and the National of Exact, Physics, and Natural Sciences (ANCEFyN) engaged in performing taxonomic studies of the Argentine flora. Its scientific activity is developed in three different areas: Systematic work on vascular plants, embryology and morphogenesis of vascular plants and laboratory of molecular biology. This institute also has one of the most complete botanic libraries in Latin America. It currently has approximately 160,000 volumes, covering from XVI century materials up to the latest research work in this field.