19.07.2016
A young Argentine woman was awarded by the World Meteorological Organization
María Eugenia Dillon, PhD fellow at the CONICET who works at the World Meteorological Organization, was awarded with the WMO Research Award for Young Scientists due to her research results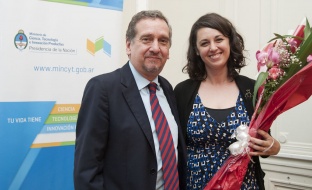 Argentina has been newly recognized for its scientists' outstanding work. This time, María Eugenia Dillon, a bachelor in Atmospheric Sciences, was awarded by the World Meteorological Organization (WMO) for adapting of a new data assimilation technique that, in addition to having multiple benefits in forecasting, could be used operatively since it requires a moderate investment in high-performance computing equipments for its implementation.
Assimilation consists of entering observation data that are coming from the surface, height and different satellite weather stations –a computer program that solves the equations that regulate the atmosphere physics and as a result, produces a "numerical forecast". This product is essential raw material so that meteorologists can prepare specific forecasts for each region and for different applications.
The young Argentine graduate's work presents improvements in the assimilation and forecast techniques based in the WRF model (Weather Research and Forecast Model). The results obtained are encouraging since they show that the method is viable with not so expensive computer resources and that with this method, more tools such as the probabilistic forecasts for our region will be obtained.
The research experiments were performed at the Research Center for the Sea and the Atmosphere (CIMA) server because they are faster, since the model must be run in parallel with several processors and wide memory capacity which makes forecasting much faster.
Research took four years and is part of María Eugenia's doctoral thesis who, regarding the WMO award, says: "I was surprised because I knew many good projects were presented. Recognition was very rewarding because it took several years of effort and learning. Difficulties arose but we were able to overcome them. I would also like to thank the rest of the inter-institutional and international team for the discussions, both of the methods and the results, and the NWS (National Weather Service) and the CIMA support for the computing resources".
The Research Award for Young Scientists is awarded by the WMO in order to encourage young scientists to perform outstanding research projects in all the meteorology and hydrology fields.
Source: National Weather Service Press