15.11.2013
A single form to extract scientific samples in the provinces is proposed
This form would facilitate the acquisition of permits to conduct scientific surveys in provincial territories.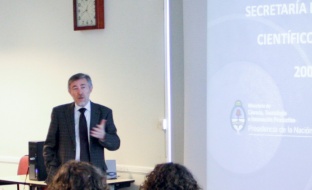 Researchers at CONICET taking samples [Photo: CONICET]
The Advisory Commission on Biodiversity and Sustainability of the Ministry of Science, Technology and Productive Innovation, today submitted a proposal to create a single institutional form to facilitate the sample collection to scientists around the country. Thus, all provinces and jurisdictions would unify requirements for researchers to take samples in their territories. The form seeks to generate mutual confidence between the provinces and the national science, technology and innovation system and reduce time and bureaucratic complexities that scientists face today when making a field research.
The Minister of Science, Barañao Lino said that this is "a safeguard against any controversy or conflict arising in the future since it will order requests for sampling throughout the national territory". He also stressed that this proposal is possible "thanks to the infrastructure put into operation by this management, allowing integration and share of scientific information." Meanwhile, Marcela Gregori, coordinator of the Commission, said: "delays in granting permits sometimes cause that samples are taken in an untidy manner, and even research lines had to be stopped".
The proposal seeks to promote and facilitate the implementation of field research projects in compliance with the existing national and provincial legislation, carried out in accordance with the ethical framework to which researchers are subject to; respecting the principle of prior informed consent; contributing significantly with the inventory, management and conservation of biodiversity, not involving variations of domain or risks or negative impacts on the conservation of natural entities.
Representatives of the Federal Council on the Environment (COFEMA), the National Advice Commission for conservation and sustainable use of Biodiversity (CONADIBIO), the National Parks Administration (APN), the National Council for Scientific and Technical Research (CONICET) and the National Institute of Agricultural Technology (INTA).