06.01.2014
$ 600 million were granted to major projects in strategic areas for national development
Between 2010 and 2013, the National Agency for Science and Technology has granted subsidies to fund nearly 60 projects of sector funds to public-private consortiums.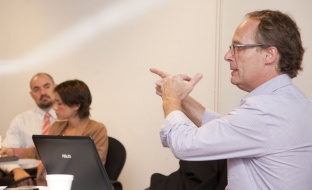 Projects are carried out by public-private consortiums.
The National Agency for Scientific and Technological Promotion, under the Ministry of Science, Technology and Productive Innovation has granted subsidies to 57 public- private consortiums, to develop large sector projects in priority areas for the country, in accordance with the strategic socio- productive cores established in the Plan Argentina Innovadora 2020.
Both public calls for funding of Sector Funds (FS) projects and Sector Technological Innovation Funds (FITS) projects are administered by the Argentinean Sector Fund in the scope of the Agency.
The execution of all initiatives will require subsidies totaling an amount close to $ 600 million which together with the contribution of $ 563,526,432 made by the consortiums as counterparty will increase the total investment to the amount of $ 1,160,173,047. Projects are geographically distributed in the provinces of: Buenos Aires (16 initiatives), Santa Fe (9), Ciudad de Buenos Aires (9), Córdoba (6), San Juan (2), Catamarca (2), Jujuy (2), Tucumán (2), Río Negro (2), Mendoza (2), Misiones (1), Entre Ríos (1), Chaco (1), Salta (1) and Chubut (1).
The Sector Funds are instruments to promote large-scale consortium and associated projects which have overcome the early stage of research and are designed to generate, adapt and transfer high-impact production and social knowledge. The goal is to accelerate the development of public-private projects, create or expand research-oriented productive sector, developing a strong local platform to be shared by several companies and/or institutions.
In summary, existing initiatives according to their priority areas are:
- FITS Health: diagnosis of bacterial diarrhea, Chagas diagnosis, inter-hospital communication for remote care, biomolecules (8 projects).
- FS Biotechnology: development of recombinant protein technology platform, development and production of monoclonal antibodies, agricultural biotechnology (6 projects).
- FITS Agro industry: functional foods, whey, use of camelid fiber (6 projects).
- FITS Energy: biofuel, solar energy, biomass, wind energy (19 projects).
- FS Nanotechnology: Functional textiles, magnetic materials, nanoclays, nanosensors, nanomaterials, nanocomposites, nanocarriers, nanomaterials for oil industry (9 projects).
- FS ICT: highly complex electronic technology; encapsulated and integrated circuits for lighting, interoperability platform and smart TV for digital television; elastic waves, sound waves and electromagnetic waves (4 projects).
- FITS Social Development: use of camelid fiber, water for development (5 projects).