Science, Technology and Productive Innovation Press and Broadcast Programme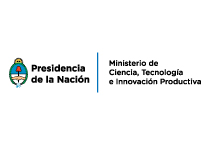 The program seeks to create and implement press and dissemination strategies of the activities and policies of the Ministry of Science, Technology and Innovation.
The Press and Dissemination area is responsible for the coverage and communication of policies, actions and activities of the Ministry of Science, Technology and Productive Innovation, its officials and agencies. Both the Press and the Dissemination units are formed by different teams developing very specific tasks, but working in a coordinated way.
The Press, Information and Management team is responsible for recording the actions developed by the different areas and officials of the Ministry, seeking to facilitate the work of the media, both print and broadcast, and efficiently multiply information on public policies carried out by this administration. It is also responsible for producing communication pieces required by the different sectors of this portfolio and meet the needs for brochures, banners and institutional publications.
The monitoring team, member of the same unit, is responsible for conducting a complete monitoring of publications related to the management of science, assess their impact and identify the needs of the media in terms of public information. As a result of this work, this team keeps the members of the Press and Dissemination unit and officials of this Ministry informed by the minute.
On the other hand, the Dissemination unit gives support to the Press area in the development of any material that turn out to be strategic for the Dissemination of the Ministry policies. This unit consists of Audiovisual, Web Communication and Creative Unit teams.
The audiovisual team, made up by cameramen, producers, photographers and editors, handles the recording on digital support of the activities of the Ministry and its officials, and produces special content that amplify the impact of our news and actions on the media from around the country.
The Web Communication area develops digital strategies and manages the online reputation of the Ministry on multiple platforms. It is also involved in the development of sites and portals of the science portfolio and manages its contents.
The Creative Unit is responsible for the design of the pieces of graphic communication of the Ministry and for the control and planning of the institutional image under the guidelines of the style manual. It also deals with the development of different printed materials indispensable for the execution of numerous events and with the administration of advertising guidelines with the Media Department of the Nation.
CONTACT US
Press and Dissemination
Phone: (54-11) 4899-5000 Int.: 2040 / 2038 / 2036
prensa@mincyt.gob.ar
Godoy Cruz 2320 (C1425FQD)
Autonomous City of Buenos Aires.