National Committee of Ethics in Science and Technology (CECTE)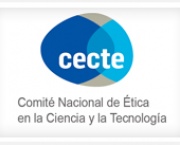 The National Committee of Ethics in Science and Technology (CECTE) is the first bioethics committee with national scope that functions as an advisory body of the Ministry of Science, Technology and Productive Innovation. It was created in April 2001 through Resolution 004/2001 of the Department of Science, Technology and Productive Innovation.
The main objectives are:
Execute actions tending to incorporate ethical dimension in the institutions of science and technology.
Collaborate with institutions of science and technology and Universities to incorporate ethical principles in research projects protocols in all disciplines.
Ensure the compatibility of the regulations related to the purposes of the Committee and those governing within the Mercosur.
Support, at their request, the efforts of the scientific societies in the development of codes of ethics, the creation and coordination of local committees, and ethical institutions.
Contribute in university education with the development training programmes on ethics for students with a vocation for scientific and technological research.
Promote training in the application of ethical principles in management and evaluation tasks in national and provincial organizations of the area.
Perform the necessary research on specific topics provided for consideration by the Ministry, provincial and national government agencies, the legislature, national universities and by their own initiative.
Throughout its history the language has built CECTE to address ethical dilemmas posed in the same production of scientific knowledge and technological developments and their relationships with society as well as those relating to access to the potential benefits of their results and the prevention of possible risks of new technologies. It also addresses the ethical implications of policies and regulations relating to all areas of scientific and technological research and issues of scientific responsibility to respond to broader social concerns.
The CECTE not address issues relating to the ethics of medical practice and is a tribunal that judges individual behaviors, although analyzes issues related to the integrity of the conduct of researchers and research institutions.
How CECTE works
The CECTE receives orders for studies and reviews from different sectors (government, public and private institutions and individuals) and discusses their relevance. If accepted, it consults and requests information to researchers of the corresponding discipline. Besides, the work also includes the most advanced information internationally available.
The recommendations and reports produced by the CECTE are based on critical and transdisciplinary analysis of the legal background and the most current scientific information and evidence available internationally on each topic discussed in the light of fundamental principles and rights.
The documents are approved by plenary meetings agreed after careful analysis and discussion conducted among all members of CECTE.
CONTACT US
National Committee of Ethics in Science and Technology (CECTE)
Phone: (54-11) 4891-8300 int. 6180
cecte@mincyt.gob.ar 
www.cecte.gov.ar
Córdoba Av. 831 (C1054AAH)
Autonomous City of Buenos Aires.