Federal Council for Science and Technology (COFECyT)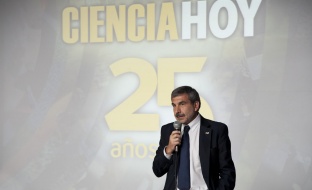 Tomás Ameigeiras
Secretary General of the Federal Council for Science and Technology
An Industrial Engineer from the Buenos Aires Institute of Technology (ITBA), he devoted himself to technology in the private sector for several years until 2010 when he started his career in the Buenos Aires Ministry of Finance. Until 2015, he worked as general manager of Educational Technology of the Buenos Aires City Ministry of Education. In addition, he founded and chaired IDEA Joven.
The Federal Council for Science and Technology (COFECYT) is an advisory body of the Ministry of Science, Technology and Productive Innovation. Its principal mission is to articulate national and regional policies and priorities in order to promote the federalization of science, technology and innovation, reduce provincial asymmetries and ensure the transfer of knowledge throughout the country.
The COFECYT is chaired by the Minister of Science, Technology and Productive Innovation, Dr. Lino Barañao, and is coordinated by the Secretary General Hugo E. De Vido. Furthermore, it is composed of the highest authorities of the provinces and the Autonomous City of Buenos Aires, with competence in science, technology and productive innovation matters that adhere to national law Number 25467.
Primary Functions
The Federal Council of Science and Technology (Consejo Federal de Ciencia y Tecnología - COFECyT) advises the Ministry of Science, Technology and Productive Innovation proposing policies and lines of action aiming at a federal and harmonic development in scientific-technological matters and innovation. 

Moreover, it proposes the formulation and application of financing instruments to support innovative projects which may provide answer to problems of municipal, provincial or regional scope, through the practical application of scientific-technological knowledge.
Main objectives of the COFECyT:
Coordinate actions within the national plan framework with the plans, programmes and provincial policies, on those issues that ensure the joint action of the nation, the province and the City of Buenos Aires.
Optimize the use of human, financial and technological resources from the different agencies and institutions —public and private— linked to scientific and technological activity in Argentina.
Assess the results achieved by the implementation of policies and actions proposed. The findings of such assessment are presented to the Science and Technology Cabinet (GACTEC).
Promote and convene the establishment of Regional Councils of Science and Technology. These councils are composed of those responsible for science and technology in the provinces; national universities, and agencies, institutes, national or provincial centers, chambers of commerce and private entities engaged in science and technology activities.
CONTACT US
Federal Council for Science and Technology (COFECyT)
Phone: (54-11) 4899-5000
cofecyt@mincyt.gob.ar
Godoy Cruz 2320 - 4th floor (C1425FQD)
Autonomous City of Buenos Aires
Interns:
COFECyT
ASETUR / PFIP: 4178, 4188, 4202, 4206
DETEM: 4172, 4174, 4182
PFIP ESPRO: 4198, 4210, 4218
Accounting Area: 4212, 4214, 4194
Legal Area: 4208, 2124, 2126