Tribute to Biodiversity and Sustaintability-Related Scientists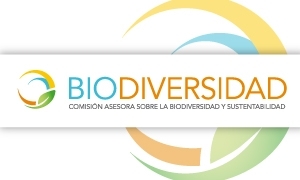 It is a series of tributes which aims to recognize the work of outstanding scientists for their work in the field of Biodiversity and Sustainability.
The Ministry of Science, Technology and Productive Innovation, through its Advisory Commission on Biodiversity and Sustainability, has created the Tribute to scientists linked to Biodiversity and Sustainability, by Resolution No. 459/12
The distinction is aimed at those scientists who over his long career have enriched the knowledge about the natural and cultural heritage and defended biodiversity, ethnicity, landscapes, soils, atmosphere, continental and oceanic waters, and whose contributions have been and are useful in various fields of other sciences.
Tribute to Eduardo Rapoport
In 2013 this award was given to  Eduardo Rapoport, bachelor in Biology and Doctor in Natural Sciences (National University of La Plata, 1953 and 1956). This tribute is made for his research work and knowledge transfer processes supporting the sustainable use of biodiversity. Rapoport is a professor and Emeritus from the National University of Comahue, CRUB and Senior Researcher in the CONICET.
He has worked before in the Universities of La Plata (1953-1956), the South (Bahia Blanca, as director of the Soil Science and Hydrology Institute, 1956-1966), Venezuela (Institute of Tropical Zoology, 1967-1971), Bariloche Foundation (1971-1978), Ecology Institute and National Polytechnic Institute (Mexico D.F., 1978-1983), and as an expert for the UNESCO (1974).
He has published more than 100 research papers (see the list attached) and the same number of science articles and 5 books (the latter at the CNRS from Paris, Mexico, Oxford, and the UNESCO) in topics related to theoretical biology, hydrobiology, soil science, entomology, bio-geography, ecology of invasions and disturbances (global change), urban ecology, and edible wild plants.
Tribute to Prof. Dr. Jorge Morello. The first award was given to Prof. Dr. Jorge Morello, for his scientific work dedicated to our natural systems knowledge and conservation.
Dr. Morello is a senior researcher at CONICET emeritus professor and director of the Group for Landscape Ecology and Environment (GEPAMA), Faculty of Architecture, Design and Urbanism of the University of Buenos Aires.
He holds a doctorate in Natural Sciences of the La Plata National University and post graduate studies in Ecology at the universities of Sao Paulo (Brazil), Arizona (Tucson), Kansas (Lawrence) and the Caltech (California Institute of Technology). He is also an Eco-geographer with experience in the Monte and Chaco eco regions landscapes.
He is author and co-editor of works with strong ecological relevance for our country, has published more than 120 scientific papers in national and foreign journals, he has also contributed to works published in Harvard University Press, Siglo XXI and the Economic Culture Fund.
CONTACT US
Advisory Commission on Biodiversity and Sustainability
Tel: (54 11) 4891-8300 int. 6212/8
cabys@mincyt.gob.ar
Córdoba Av. 831 - 2nd floor - Office 204/5. (C1054AAH)
Autonomous City of Buenos Aires