Nanotechnologists for one day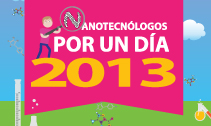 The Argentine Nanotechnology Foundation (FAN) organizes a national contest to encourage interest in nanotechnology in high schools across the country.
Such contest has been created in 2012 is organized by the Argentine Nanotechnology Foundation (FAN).
Such contest aims at promoting and disseminating nanotechnology at high schools, and at encouraging the student's interest in studying courses related to it later, as there are no contents related to nanotechnology at high school level, as well as their scientific spirit and critical judgment.
This contest is aimed at high schools in Argentina.
Go to the website: Nanotecnologists for one day
CONTACT US
Argentine Nanotechnology Foundation
Phone/Fax.: (54-11) 4518-1716
contacto@nanoporundia.org
25 de Mayo Av. 1021 (1650)
San Martin, Buenos Aires