Fidel Antonio Roig Award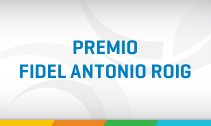 The Fidel Antonio Roig Award is a contest created to recognize the intrinsic value of biodiversity, its importance for humanity and its relevance as an object of scientific study.
It is an initiative of the Advisory Commission on Biodiversity and Sustainability, Ministry of Science, Technology and Productive Innovation, and was created by Resolution No. 577/10.
The award is aimed at research groups belonging to Institutions of the Argentine Science and Technology System who participated, through the transfer of their work results, in initiatives demonstrating that have developed and executed sustainable use actions of biodiversity or any of its components in the country.
About Fidel A. Roig
 Fidel Antonio Roig, became one of the country's leading botanists, born in July 16, 1922 in the city of Mendoza and died on November 2008. He was a professor at the Faculty of Agricultural Sciences, National University of Cuyo. In 1971 he joined the Scientific Researcher Career of CONICET. He authored more than 150 publications, designed primarily to studies of botanical taxonomy, phytosociology, ecology, vegetation mapping, medicinal plants and photochemical.
 He founded and directed the Botany and Phytosociology Development Research Unit, at the Argentine Institute for Research in Arid Zones (IADIZA). Through his many travels to Argentina and other countries, he gather a 17,000- specimen herbarium, many of such specimen compose the IADIZA Regional Herbarium base. With 57,000 plants today, this is one of the largest herbarium in the country.
CONTACT US
Fernanda Massone/Marcela Gregori
Phone: (54-11) 4891-8300 int. 6212 
Autonomous City of Buenos Aires