CINECIEN - Science Festival in Film and Video of MERCOSUR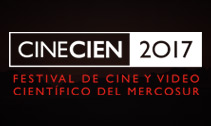 CINECIEN is the science film and video festival of MERCOSUR dedicated to promote academic and research audiovisual works in all areas scientific knowledge, through creative and communication possibilities provided by the audiovisual media.
The Festival was created as an initiative by the Department of Audiovisual Arts - National University Institute of Art (IUNA) at the Special Meeting of Science and Technology of MERCOSUR (RECyT) that incorporated the proposal in its activities schedule and is currently included within the National Programme for the Popularization of Science and Innovation.
The purpose of the festival is to encourage filmmakers and institutions of member countries and MERCOSUR partners, to use audiovisual media as a vehicle for the popularization of the researchers and scientists works from all areas, as well as to promote and popularize the scientific production in the region, promote the use of Spanish and Portuguese languages as a means of expression of the knowledge progress and integrate the human, technical and infrastructure of the audiovisual producers of universities, decentralized or government entities or agencies of MERCOSUR.
Go to the website: CINECIEN
CONTACT US
National Programme for the Popularization of Science and Innovation
Phone/Fax.: (54-11) 4891-8300 
popcien@mincyt.gob.ar 
Córdoba Av. 831, 2nd floor (C1054AAH)
Autonomous City of Buenos Aires