08.07.2013
Telemedicine for the treatment of epilepsy
Bioscience is an Argentine company that creates, manufactures, and sells medical equipment. It has developed a device that records and stores encephalograms of patients with epilepsy for their later analysis. It could be manufactured through the financing granted by the Ministry of Science, Technology and Productive Innovation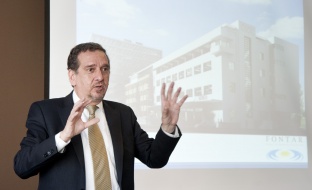 Information and Communication Technologies Applied to Health.
A group of researchers from the General Hospital J. M. Ramos Mejia had the idea to design this telemedicine device to develop an Epilepsy network connection several excellent health centres with other institutions for medical interconsultation, diagnosis and remote care of patients.
Telemedicine is a medical practice performed between doctor and patient, where they are not face to face, but they can interact through the use of Information and Telecommunications Technologies (ITT). This type of medical practice provides big advantages to follow up patients.

Bioscience is a company based in the district of Belgrano, city of Buenos Aires, and specializes in manufacturing medical equipment for neuro-diagnostics; they also promote benefits provided by ITT in the devices they develop. To accomplish its goals, the company received financing in several opportunities from the National Agency for Science and technology Promotion through its Argentine Technological Fund (FONTAR). One of its main products is remarkable for its efficiency for the treatment of epilepsy, which is one of the most frequent neurological illnesses suffered by 1 out of 200 inhabitants.

This equipment allows monitoring a patient along the time. This device applies to a type of asynchronous telemedicine, as it is the first equipment that allows storing encephalograms of the patients in video, then, a technician selects the most remarkable segments for the specialist to analyze them. Thus, we can follow up continuously the episodes of this mental disorder for its control.

Dr. Silvia Kochen from the EpilepsyCenter of the General Hospital J. M. Ramos Mejía developed a project based on the patient monitoring equipment of Bioscience and received also a subsidy from the Agency for its development. With the use of ITT, Dr. Kochen sought to facilitate the specialized diagnosis of patients across the country.

The best way to achieve this objective was to generate a network of epilepsy connecting several excellent health centers with other medical institutions to perform interconsultation, diagnosis, and remote assistance.

With the financing granted, software has been developed for interconnectivity of health centers and a transmission system has been adapted to international standards to ensure the aspects related to safety and privacy of the patient's data.

Telemedicine contributes to decentralizing, reduces direct and indirect costs connected with it, improves the lives and care of patients, takes advantage of unused equipment and decreases waiting time.