08.07.2013
Construction of a prototype of mechanical harvester of berries
The project contemplated the development of mechanical harvester of berries driven by a tractor. The mechanicalization of the harvest enabled the development of a larger crops area for raspberry and blackberry, therefore increasing and diversifying the possible commercial destinations of the fruits within the world market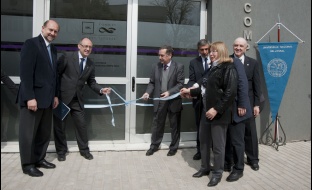 Harvester prototype.
Thanks to the funding of the Federal Council for Science and Technology (COFECyT), a prototype of the mechanical harvester of berries was developed in the city of Plottier, at costs compatible with the productive system of the province of Neuquén. By doing so, it was possible to build and fine-tune a machine to harvest raspberries, driven by a tractor, which may be used by local producers in an associated manner in order to strengthen existing business and promote the activity as a productive alternative.

The project seeks to mitigate the negative impact on costs, quality and quantity of fruit generated by a low or scarce mechanization in the harvest of fine fruit. Mechanization of the harvest shall enable the development of a larger crop area for raspberry and blackberry, therefore increasing and diversifying the possible commercial destinations of the fruits within the world market.

The entity which shall benefit from the project is the Chambers of Fine Fruit Producers of the Patagonia. Also involved in the undertaking are the Ministry of Territorial Development of the province of Neuquén (through the Center for Small and Medium Sized Companies (SMEs) of Neuquén), the National University of Comahue, the Abel Rodríguez & Asoc company (in charge of the construction of the prototype) and the INTA. 

The project included the design and engineering of the model (plans, memory of calculation of materials) and of the components for the construction of the prototype of mechanical harvester of berries. Crops adaptation was also performed with the fine tuning of the prototype. And lastly, final tests were made to assess the quality of the fruit. Once its proper functioning was confirmed, the prototype was delivered to the Chamber of Producers.