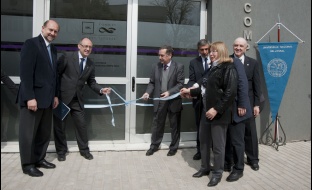 Patagonia Region
The project contemplated the development of mechanical harvester of berries driven by a tractor. The mechanicalization of the harvest enabled the development of a larger crops area for raspberry and blackberry, therefore increasing and diversifying the possible commercial destinations of the fruits within the world market
Metropolitan Region
The Genoma-CYTED PhaslbeAm is a research project coordinated by the Latin American Science and Technology Programme for Development (CYTED) composed of Latin American Science and Technology agencies, with the purpose of determining the bean genome sequence as a basis for better use of this resource.
Pampeana Region
A group of researchers and scholarship holders of the National University of Litoral in the province of Santa Fe, found the way to generate plants that can endure water and saline stress.
Cuyo Region
Lomas del Sol, a company from the province of San Juan, is engaged in the production of raisins since 1979. It could expand to international markets with a high-quality product, and has supplied its product to more than 10 countries worldwide. To be able to penetrate new markets, Lomas del Sol, decided to optimize its process for industrialization of raisins. For the purpose of obtaining certification of its production it improved its drying capacity and included traceability procedures and new materials for its productive process.