RAICES - Network of Argentine Researchers and Scientists Abroad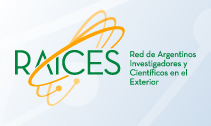 The network is composed of Argentine researchers living in the country and abroad. The RAICES programme aims to strengthen the science and technology capabilities of our country by means of developing networking policies as well as by giving incentives to Argentine scientists for them to stay in the country and for their return.
The network of Argentine researchers and scientists abroad (RAICES) is a programme of the Ministry of Science, Technology and Productive Innovation of Argentina, through the National Directorate of International Relations.
The main lines of action of the Programme are the Science and Technology Research Projects (PICT), aimed at promoting the links of Argentine-based research groups with one or more members of the RAICES Program, and promoting of professional background of scientists and researchers abroad who wish to reenter the Argentine professional environment.
Also, RAICES offers Return Subsidies in order to help Argentine researchers who live abroad and have a work offer in Argentina and want to return to the country, the Dr. César Milstein subprogram that promotes liason of Argentine researchers living abroad with domestic science and technology means, and Productive RAICES, a link with business professionals and Argentine technologists abroad, to develop opportunities for scientific, technological and business with high technological added value.
Go to the website RAICES

CONTACT US
Dirección Nacional de Relaciones Internacionales
Phone/Fax: 4899-5000 int. 4160/62/44/46
raices@mincyt.gob.ar
Godoy Cruz 2320, 4th floor. (C1425FQD)
Autonomous City of Buenos Aires