PRODEQ - Programme of Equipment Donation from Foreign Institutions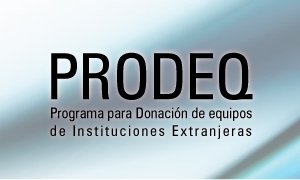 Program intended to subsidize the costs of transporting equipment donated by foreign institutions to public agencies and scientific and technological entities belonging to the National System of Science, Technology and Innovation (SNCTI).
To be eligible as beneficiaries of the program, institutions must be registered in the Register of Organizations and Scientific and Technological Entities (ROECYT) when making the request.
Institutions must submit the following documents: formal instrument (notes, notifications, etc.) where the donation is offered to the Argentinean institution; formal instrument (administrative act) of acceptance from the Argentinean institution; value of donated equipment; prove that the value of the equipment entering the country exceeds three times the cost of transportation, bills of transport companies involved, and any other documents related to the equipment donated.
The payment will be disbursed prior commitment of the beneficiary entity of the donation to submit an irrefutably documented accountability. The reimbursement must be requested 60 days prior to the expected date of customs clearance in Argentina.
In order to receive the resources for moving expenses, agencies must have the "Beneficiary Admission" approved and a declared bank account before the Treasury Department, the latter enabled by the General Treasury of the Nation (if it were a public agency), since payments will be made by transfer through the Treasury Single Account. Having the process arranged, the agency just has to communicate by letter or email to make the request.
CONTACT US
National Directorate of International Relations
Phone/Fax: 4899-5000 int. 4136
ldascenzo@mincyt.gob.ar
Godoy Cruz 2320, 4th floor (C1425FQD)
Autonomous City of Buenos Aires