PEI- Institutional Evaluation Programme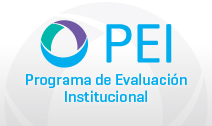 The initiative promotes and manages the ongoing evaluation and continuous improvement of the institutions within the National System of Science, Technology and Innovation (SNCTI).
The project is part of the Institutional Evaluation Programme (IEP) and operates under the Secretariat for Institutional Evaluation.
The PEI accompanies the self-evaluation process and provides technical assistance and funding support for its implementation. It is also in charge of the external evaluation process and organizes and accompanies participants to the institutional visits. Finally, provides technical assistance in the development of improvement plans and oversight the implementation thereof.
There are two main targets of the Institutional Evaluation Programme (PEI) activity:  Institutions of science and technology (ICT) and universities, in relation to the research and development roles (R+D). The proposed methodology promotes the participation of members from the organization in these three moments, inviting them to make a critical consideration on performances and results.
Go to the website: PEI
CONTACT US
Institutional Evaluation Programme
Phone/Fax.: (54-11) 4899-5000
evalua@mincyt.gob.ar
Godoy Cruz 2320, 2nd floor (C1425FQD)
Autonomous City of Buenos Aires